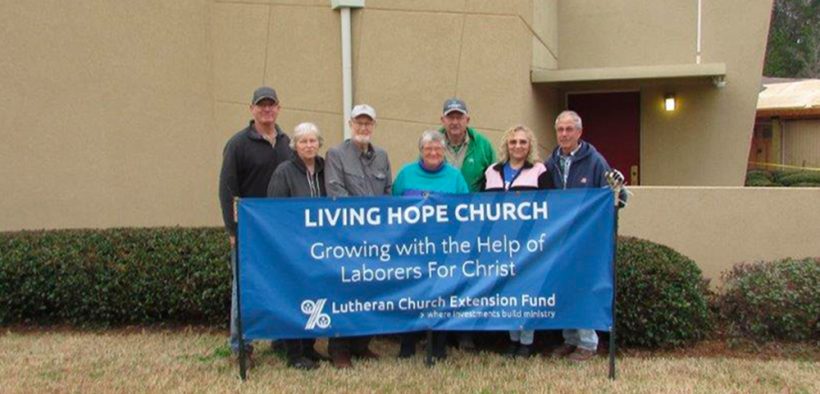 From "embarrassing" to a makeover "that could be on HGTV." That's among the accolades for renovations at Living Hope Lutheran Church, Kennesaw, Ga.
"We feel like we've flipped 180 degrees," Rev. John Schubert said of his congregation's two-phase project in partnership with Lutheran Church Extension Fund's (LCEF) Laborers For Christ. The improvements dramatically enhanced the entrance and multipurpose room, the two areas the community and visitors see as the face of the Living Hope campus.
In ways that go beyond construction, the project "was a beautiful thing to watch unfold," the pastor said.
Bigger, better, less cost
Living Hope began as a mission plant of The Lutheran Church—Missouri Synod Florida-Georgia District with a school and a sanctuary. For the first 25 years, themain entrance was through the school – a challenge to visitors looking for the church.
When members made donations for a formal entryway, they got the ball rolling for the church "to make a better first impression," Schubert said. En route to one of his son's baseball games, the pastor spotted a welcoming entrance and snapped a picture to share with his congregation's facilities team.
Today, a striking, all-cedar portico extends a warm invitation to Living Hope that's impossible to miss.
"It's bigger, better and more beautiful than we hoped. What they did cost less than our first estimate; what they built is the most solid part of our whole campus," said Schubert, referring to the Laborers For Christ team.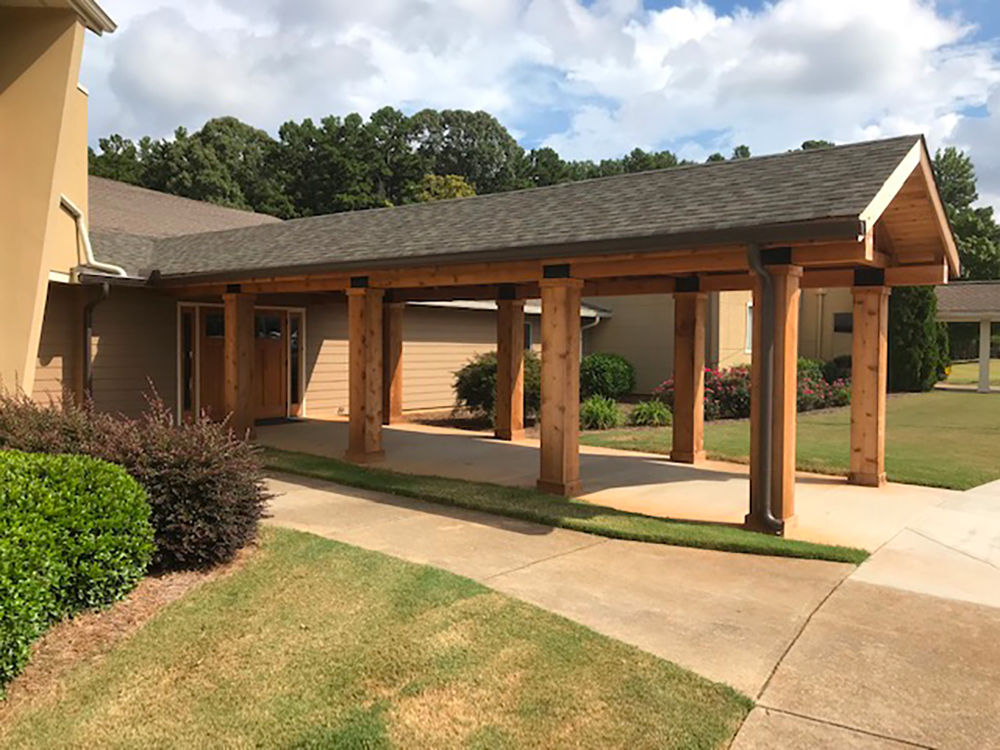 Integrating with church life
Working from the picture to create the church's official entrance presented a first for this Laborers For Christ team.
"We designed it and built it as we went along," said Lee Smith, of Smithville, Tenn. He served as project manager on phase one, with Marvin Reents of Clarinda, Iowa, and Peter Snyder, of Myrtle Beach, S.C.
Arriving in January, the crew faced weather challenges. Although winter is typically mild in Kennesaw – an Atlanta suburb – this year was cold and rainy. Rather than take a break, they tackled prep work for the project's second phase, renovation of the church multipurpose building. Likewise, the Laborers For Christ spouses – Deborah Smith, Roberta Reents and Linda Snyder – pitched in with numerous church tasks, including clerical and organizational work.
The way the laborers and their spouses "integrated into our ministry and our church life, you would have guessed they were longtime, active members," Schubert said.
Beyond construction duties, they participated in worship, led Bible studies and coordinated weekly dinners that drew "a ton of our people who wanted to take part."
From 'ugliest to most beautiful'
Used for everything from church dinners and funerals to a polling place and birthday party rental room, Schubert calls the multipurpose room "the place our community saw the most but looked the worst on our campus."
The renovation of the multipurpose room included replacing bi-fold partitions, discolored with age. The second-phase Laborers For Christ team – Rick Green, Edgewater, Fla., and John Hardy, Normal, Ill. – built new walls and barn-style doors to accommodate varied activities that often happen simultaneously.
The team redid the cabinetry to match the "barn" doors, installed a soundproof wall for the pastor's office and painted the building interior – a building that once served as the church sanctuary, with an 18-foot high ceiling.
Completed in August, the multipurpose room renovation was a transformation Schubert calls "from the ugliest to the most beautiful."
Working together for God's Kingdom
Living Hope is a longtime LCEF partner, Schubert points out, purchasing their church property in 1996 with the help of an LCEF loan. Today the congregation is using LCEF financing through a church improvement loan.
This was the congregation's first participation in LCEF's Laborers For Christ, and they hope to do so again. "They have blessed our church in so many ways," Schubert said.
In turn, Laborers For Christ appreciated Living Hope's support of needed tools and helping hands. Along with building a new portico, friendships, too, were built.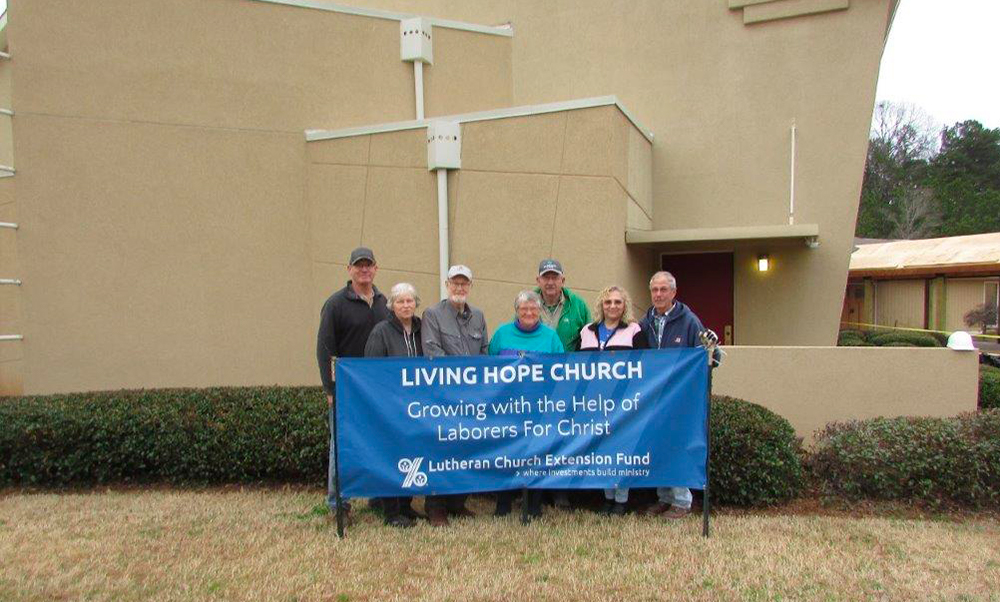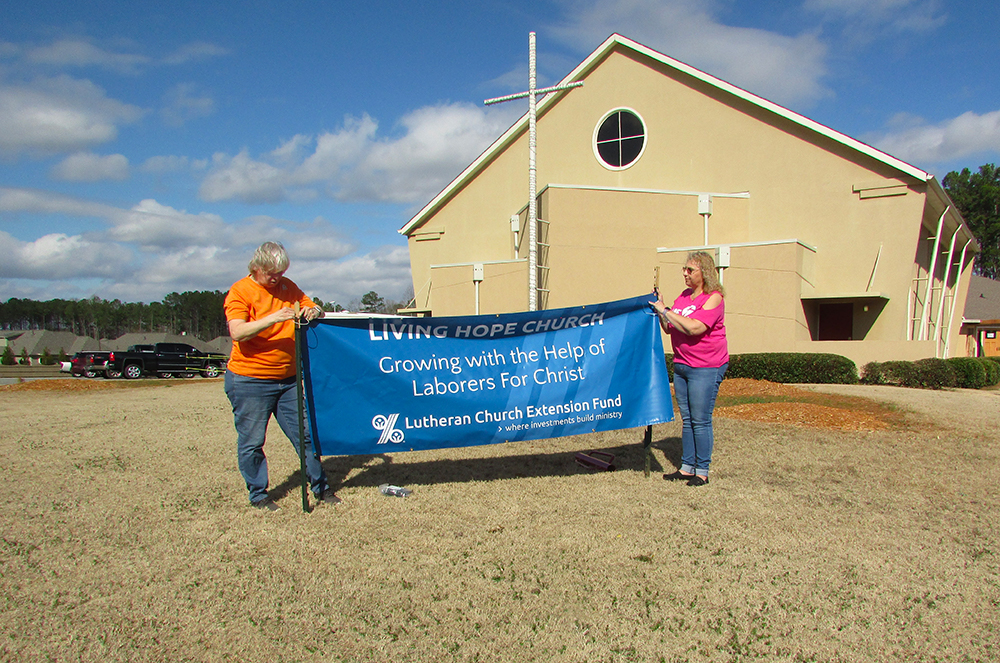 "Meeting new friends and working alongside fellow Christians for God's Kingdom" is the major reason Green, a former computer and manufacturing consultant, joined Laborers For Christ.
Christian camaraderie drew retired businessman Lee Smith, along with opportunities to help strengthen ministries like Living Hope.
"When I see that new entryway, I know it will be a walkway to hearing the Word of God for many, many years to come," Smith said. "Knowing that makes you want to get involved."
Looking for a satisfying next chapter of your life? You don't need a particular skill. Just a desire to work with fellow Christians for the glory of God.
To learn more about Laborers For Christ, visit lcef.org or call 314-885-6444.