Learning from Our Parents and Grandparents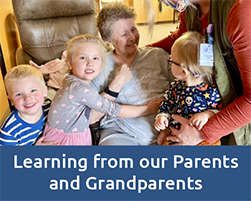 A word from Diana Raasch, director of Donor Relations and Gift Planning
Like learning to read and play nice with our siblings and others, my parents and grandmothers taught me about stewardship.
Maybe you were like me, sitting in church, and they gave you some change, a dollar or the family church envelope to place on the offering plate. Ultimately, our parents and grandparents taught us the need to support the church.
Unfortunately, many pastors and lay leaders post-COVID realized they weren't receiving their usual offerings and tithes. Because of this, congregations have had to look at ways to generate extra income or add a component to a capital campaign to pay down debt. To cope, some congregations become part of a dual congregation, or worse yet, close.
In my role at LCEF, I'm providing workshops to help LCMS congregations and ministries find ways to generate more income. If you would like to learn more, please call me at 314-885-6476. In the meantime, visit lcef.org/legacy to explore our many resources for you and your congregation.