Responding First With the Love of Christ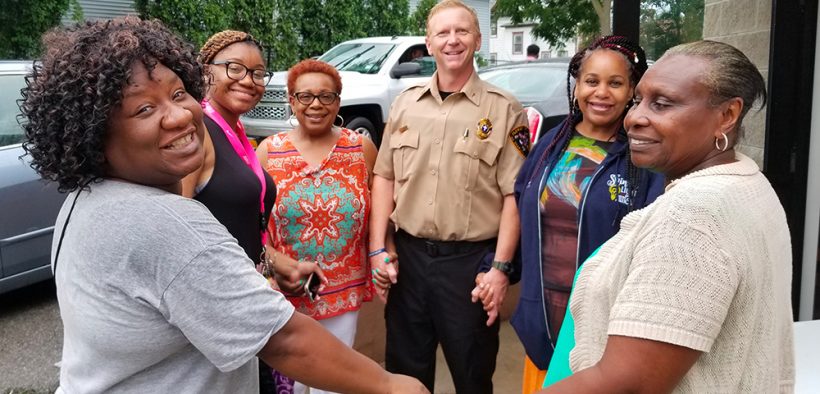 In upstate New York, a city blooms abundantly with flowers and trees, apples, grapes, pears, raspberries, strawberries and blackberries. Nicknamed "Flower City," Rochester is known for being a lush garden spot, especially in the summer, with more than 12,000 acres of parkland throughout the city.
It may be beautiful, but like any city, it has its share of problems.
It suffers from crime, accidents, homelessness, drug use and other troubles. Thankfully, the city has an excellent network of first responders: police officers, firefighters, paramedics, emergency medical technicians and others who provide assistance to people in the community. These first responders often see the worst of the worst. They are on the scene when disasters strike, visit the homes of loved ones to notify them of a death and have to act quickly to avert criminal activity and save lives on a daily basis. It's a tough job.
An estimated 30 percent of first responders deal with behavioral health conditions like depression and post-traumatic stress disorder. They have statistically higher rates of divorce and substance abuse problems than the general population. It's estimated that between 125 and 300 law enforcement officers commit suicide every year.
To combat these statistics and provide hope and support for first responders, the Flower City Chaplain Corps (FCCC) was developed six years ago by church leaders in the Rochester community. A few years later, Faith Lutheran Church in Penfield (a suburb of Rochester) became aware of the organization and wanted to get involved.
"FCCC was started as a means to reaching out to the first responders while also hoping to serve as a bridge between the first responders and the community," explained Lyle Heggemeier, deputy chief of FCCC and director of adult ministries at Faith. "The leadership at Faith saw the need and opportunity to serve beyond its walls and decided to step in and help."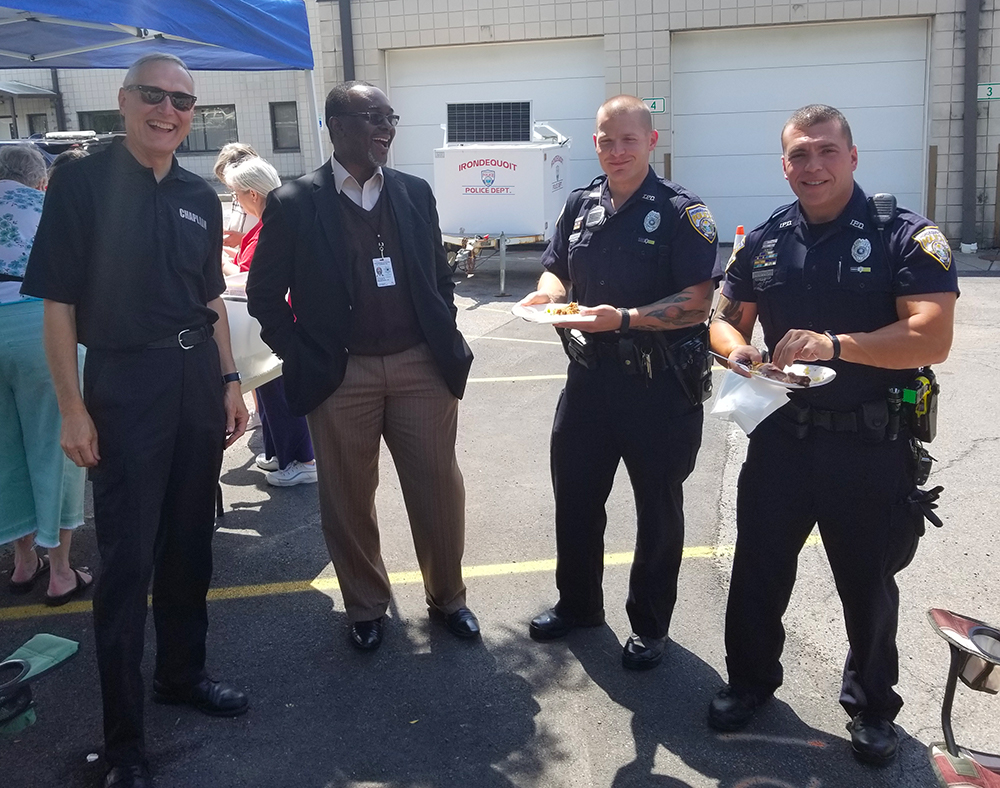 After connecting with the FCCC, Heggemeier was trained and began serving as a chaplain, followed by another member of Faith, Randy Henderson, who had previously worked as a first responder.
Henderson explained that "with the levels of stress and negativity that first responders, especially law enforcement, deal with, a friendly listening ear and someone who represents the love of Christ helps them. We have been told by a couple of the police chiefs that they believe what we do is important for officer wellness and giving them someone to talk to in a private, confidential, non-judgmental environment."
Heggemeier agreed, noting also that first responders have great spiritual needs that aren't being met – and no connection to Christ or His Church to help them in the hardest of times.
"We also recognize that many of the officers are not Christians," said Heggemeier, "so forming relationships with them allows our chaplains an opportunity to share the news of Christ with them as they face their myriad of challenges."
The chaplains have prime opportunities to interact with the responders and even share the Gospel with the hurting families served by the responders. Chaplains in the FCCC do about three ride alongs with police officers each week, spending four to eight hours in a car with the officer while they are on duty.
"We have formed many relationships with police officers in the Irondequoit and Webster police departments," said Heggemeier. "[The ride along] gives a lot of time for conversation. On my last ride along I had a conversation with the officer about why bad things happen in the world and how a good God could allow it to occur. I don't know if this officer will become a Christian, but I'm praying that a seed was planted."
The FCCC is also present with the first responders "through some of the most difficult situations anyone could ever face," Heggemeier added. The chaplains sometimes "go with the officers to notify a family about a death, [which] gives us a unique chance to impact a family with the Gospel, at a time when they most need it."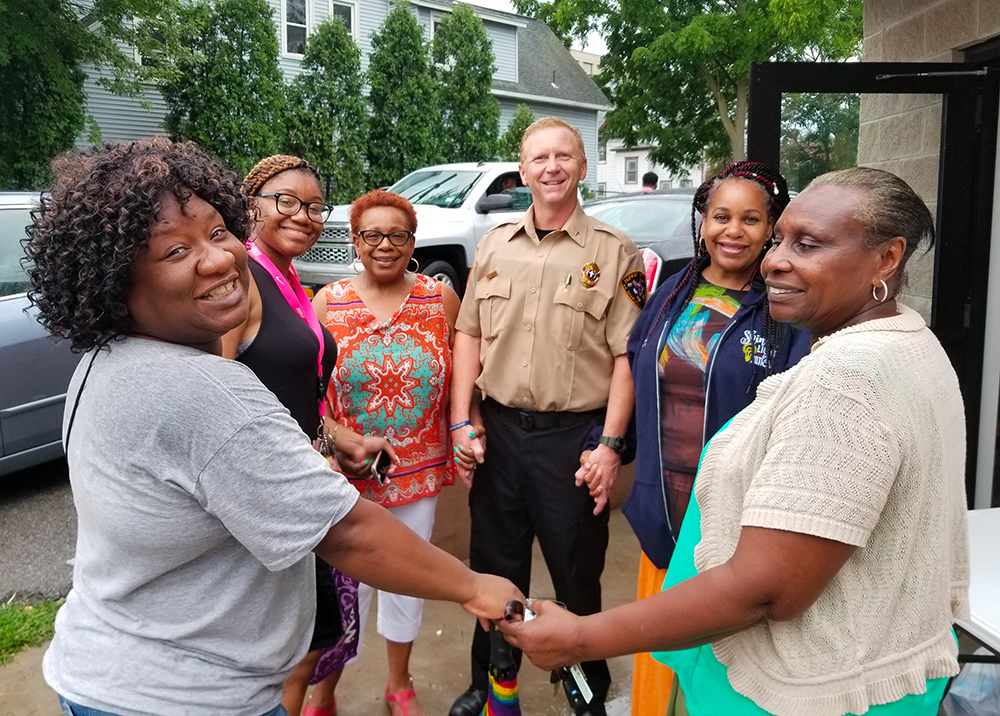 After Faith became the meeting and training spot for FCCC, it was obvious that there was more room for growth. They had the capacity and desire for more volunteer chaplains, but the funds weren't there. Financial support was needed to grow this ministry by identifying and training more spiritually mature, empathetic and available chaplains.
Once the FCCC has potential chaplain candidates, the real work starts: the candidates are trained in first aid, CPR, critical incident training, suicide prevention, substance abuse counseling and more. The corps then equips the new chaplains with uniforms, badges, IDs, coats with reflective 'chaplain' on it and bullet-proof vests.
"We know that we can't grow too quick without sacrificing quality, but we easily could have 30 chaplains serving currently, if we had the trained personnel," noted Heggemeier.
Faith Lutheran sought to support this ministry in a greater way, and had also heard about LCEF's Kaleidoscope Grant through their LCEF district vice president. It seemed like the perfect chance to help strengthen the ministry, and they were thrilled to receive the funds needed to train and equip more chaplains.
"This grant gives us the opportunity to grow this ministry without asking volunteers to fully fund their own training," said Heggemeier. "We can also provide the resources and things they need to do ministry, and can provide insurance for our volunteers so they won't be harmed if something unforeseen occurs while they serve as chaplains."
Without the Kaleidoscope Fund grant, Heggemeier added, "FCCC's growth would have been much slower and some of those who will serve as chaplains would not have been able to afford it."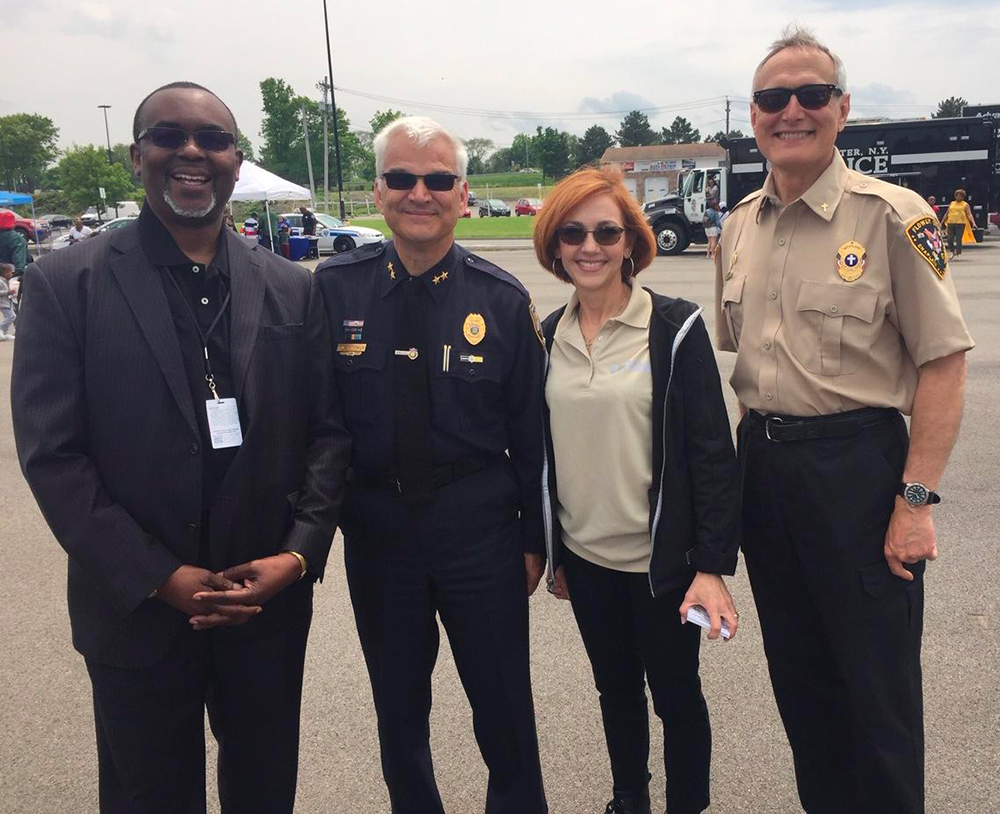 The FCCC currently has 10 trained chaplains, two of which are members of Faith. In summer 2019, the corps will graduate a class of six additional chaplains and they anticipate training another group of four to six more candidates in the fall.
"The [Kaleidoscope Fund] grant has been instrumental in providing a foundation for FCCC to be able to train additional chaplains and begin the process of expanding our ranks to be able to serve the local first responder chaplain need," noted Henderson.
And their greatest need, of course, is to know Christ.
"Last summer our chaplains, including me, participated with Rochester police in walking door-to-door in neighborhoods known for criminal activity," said Heggemeier. "In two evenings of doing that I personally got to share my faith in Jesus with people. One person said, 'I don't believe in God,' when the conversation started, but ended with, 'You know, you've given me something to think about.'"
Heggemeier added, "We have no way of knowing how many of these people will know Jesus or be open to hearing about Him, but we will be there to minister to them when they need it and be ready to pray with them and share with them about Christ."
And through this ministry to first responders, with the perfect love of Christ at hand through the FCCC, the city of Rochester is being made even more beautiful.