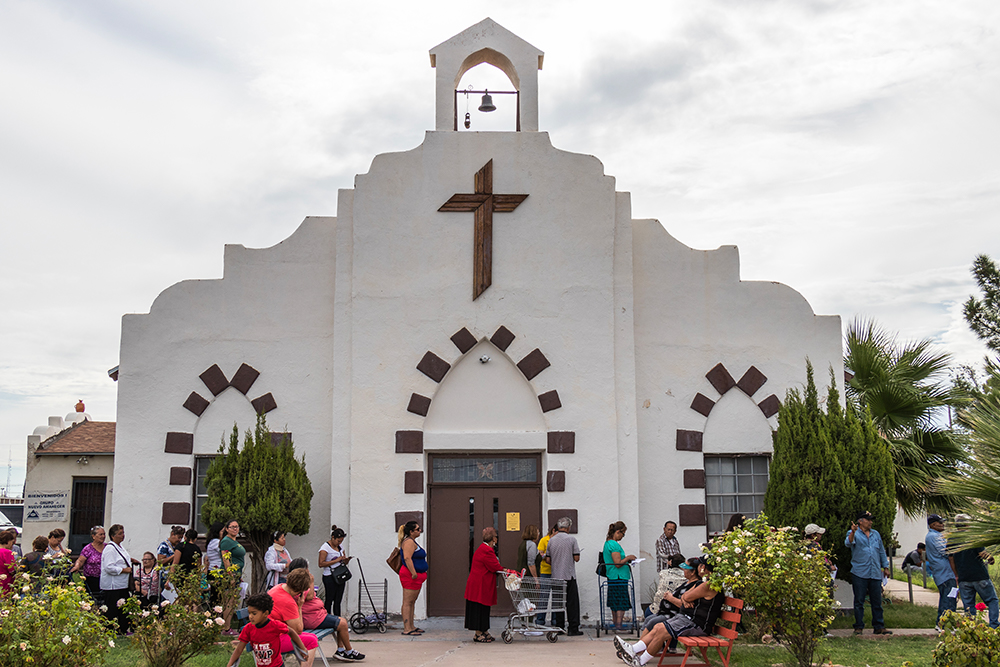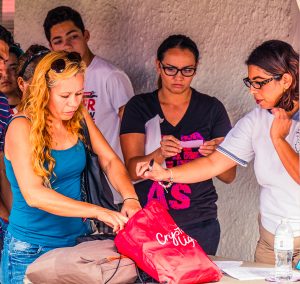 Ysleta Lutheran Mission Human Care (YLM) sits on a 5-acre campus in El Paso, Texas, half a mile from the Mexican border. Ysleta is a human-care and church-planting LCMS Recognized Service Organization founded in 1982. Wander the campus and you'll get a sense of the widespread reach behind the mission. You'll pass a dormitory, thrift shop, medical clinic, food distribution center, education building for English instruction and the parish of San Pablo.
"We are changing lives through simple acts of kindness," said Rev. Karl Heimer, president of Ysleta and pastor of San Pablo Lutheran Church, El Paso, Texas.
Heimer is the perfect person to lead this ministry. A Cuban native who came to the U.S. after high school to study for the ministry, he was ten years old when his father died.
Build a safety net
"I remember churches were very supportive and concerned about us," Heimer said. "They treated us with a lot of love and compassion. When I became a pastor, I remembered that was such a good thing that was done by the church. And I have that same desire to be there when people lose their father or mother."
Here's why this is important: the situation across the border has been very serious and needs a mission like Ysleta close by. "For the past several years," Heimer said, "Juarez has been the battleground of rival drug cartels warring over prized trafficking routes into the United States. And the orphans, when their parents were killed, they need a lot of psychological and physical help."
Ysleta's goal, according to Rev. Steven Heimer, Rev. Karl Heimer's son and the organization's chief operations officer (COO), is to set up a kind of a safe haven: "We want to build a network of partnerships that strengthen our commitment to the community, which becomes a safety net for people."
In 2017, Lutheran Church Extension Fund (LCEF) partnered with Ysleta to provide funds via a line of credit loan. This has allowed Ysleta to continue to extend their reach into the community with the Gospel, as they are doing with their food basket distribution.
Feed the hungry
For the last 25 years, Ysleta has been reaching out to alleviate physical hunger through weekly food basket distribution. Every week volunteers prepare groceries for approximately 200 families.
"We provide food because, as Christians, we have the command to love your neighbors as yourself," said Elivra Viramontes, program facilitator at Ysleta.
The food is purchased by Ysleta or donated by churches, schools, the Orphan Grain Train and the West Texas Food Bank. The mission also hosts a daily hot meal program.
"Recently," Rev. Karl Heimer said, "a young mother told us about a time a few years ago when the food from [Ysleta] was all that she and her daughter survived on for a month. Her husband had left her, leaving her to care for her daughter by herself with a very limited income."
This was how they were able to make ends meet until employment was found. After a month of doing this, the young woman found a job and was able to provide for her family.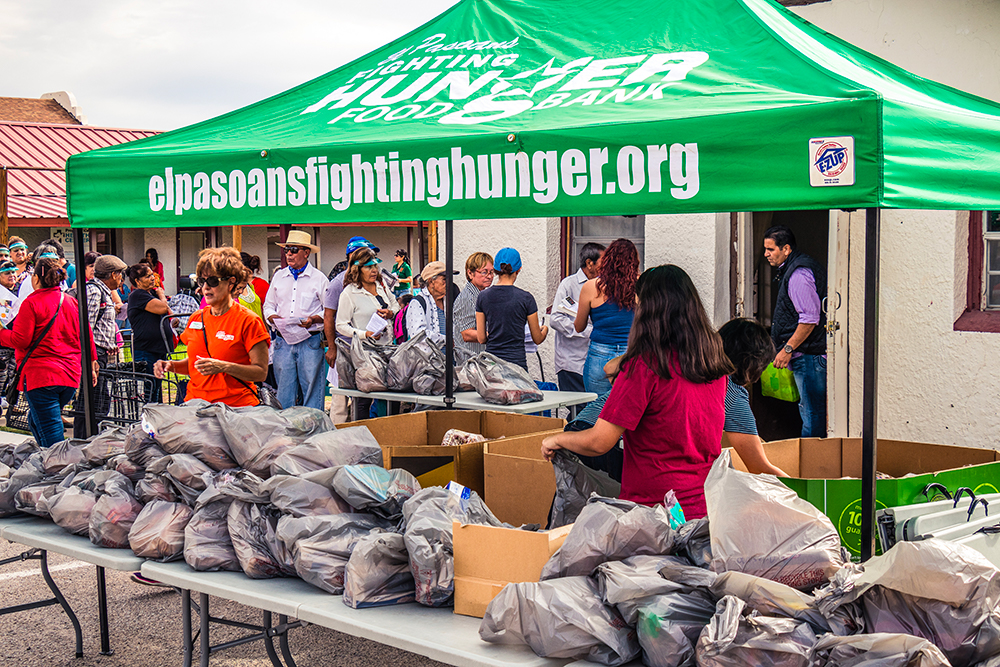 Across the border
Each year several groups come in from around the country to be part of a servant event across the border, usually to build a house. Housing standards are a lot different than what we are used to.
Often the house is a 10 x 14-foot room, with several families sharing it. "It helps and gives the opportunity to work together," said Erin Mackenzie, a member of St. Paul's Lutheran Church, Des Peres, Mo., during a recent servant event trip, "and to appreciate what we have." In addition to the servant event that repairs or builds shelters and homes in Mexico, Ysleta also sustains six mission sites in its sister city of Juarez, Mexico, and three farther south in Chihuahua. But there is plenty of work to do on this side of the border.
Music ministry
Since 2001, the Adelante Music Ministry of Ysleta prepares musicians to serve in churches and in the community. The mission was established so that children, teenagers and adults have an opportunity to work together, making a positive impact on people's lives through the music of hispanic culture and the message of Christian faith.
"The impact of a visit from [our mariachi band]," Rev. Karl Heimer said, "to a nursing home, adult day care or the doorstep of a person who is sick or under stress can be great. Mariachi music is something that reaches into the heart of the Hispanic population in a unique and powerful way. However, people of diverse cultures enjoy Mariachi San Pablo's music just as well."
The group has also traveled to 17 different U.S. states as well as into Mexico, performing for a variety of Lutheran conventions, conferences, and church events, celebrating with and assisting others in reaching the Hispanic populations in their communities.
Christ's light
Ysleta is truly blessed with a geographic location and a largely bilingual staff that makes international ministry in El Paso not only a possibility, but a reality.
"We strive to be Christ's light during this critical time in the history of the borderland," Rev. Karl Heimer said, "shining brightly to over two million people whose lives have been blackened by violence and corruption."
Pray with us: Dear Lord, bless those in every land who baptize and teach in Your name. Strengthen Rev. Karl Heimer, the Ysleta staff and volunteers for their work to love and serve their neighbors. Open doors for the Gospel, and empower by Your Holy Spirit those who hear it to believe it and be saved. Amen.