Where one Lutheran school found sunshine in recovery from hurricane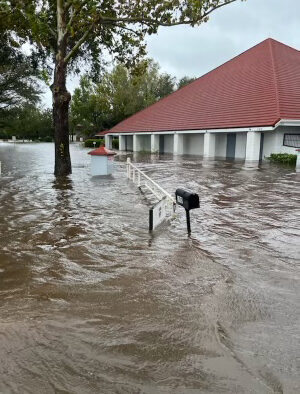 Hurricanes are nothing new for Holy Cross Lutheran Academy in Lake Mary, Fla. The school sits about 25 miles west of the Atlantic Ocean, just north of Orlando.
So when Hurricane Ian was brewing in the Gulf of Mexico during September 2022, the school and its network of churches prepared as usual.
They had no idea what was about to hit them. 
The third most-costliest hurricane
With sustained winds of 155 mph and gusts of 215, Ian carved out a path of destruction through central Florida. Then there was the rain.
In some communities, over 31 inches fell. The surging waters washed out Interstate 4 and destroyed nearly all the standing structures on Sanibel Island, Fort Myers Beach and Pine Island.
Millions of Floridians were without power. Others had to take refuge on their roofs. Ian proved to be the third-most costly hurricane in U.S. history, with $113.1 billion in damages.
And in Seminole County, the historic storm flooded over 1,000 homes and engulfed Holy Cross' upper campus with three feet of water.
They found standing water in the auditorium and gymnasium, the athletics director's office, the kitchen, storage closets, bathrooms, locker rooms, lobby and mechanical rooms. Water stood everywhere.
It was a difficult time for Holy Cross.
Growing up in the community
Holy Cross is associated with five churches within the Central Florida Cross Network (CFLCN), including Holy Cross Lutheran Church which established the school as an early childhood program in 1984.
The elementary school started in 2001. Enrollment demands prompted the school to add a second campus in 2014. Named the Upper Campus, the new location served 5th through 8th-grade classes. In 2015, they opened a high school.
Holy Cross is a growing ministry, serving the community and sharing God's mercy and grace.
LCEF assists with cleanup
Leaders with the CFLCN reached out to LCEF for a disaster relief loan as cleanup began.
One of the most significant efforts in the gym floor, which had recently been epoxied. A layer of clay from a nearby construction site covered the gym floor. They used two floor scrubbers to remove the silt while cleaning and repairing the floors for two weeks.
Blowers, ozone generators, cleaners and more were needed to identify problem areas in the walls and flooring.
As teachers and students prepared for the Christmas program in December, they found additional damage. As a result, they closed the auditorium, moved the Christmas program to Holy Cross Lutheran Church and removed wallboards to test and treat potential concerns.
"The work that we performed isn't flashy. It's not a new addition or a beautiful renovation," said Dennis McGavock, the Chief Operating Officer of CFLCN. "But it was needed to ensure we deliver quality programming to our students. Our funds were tight, and the LCEF loan blessed our ministry."
Join us in prayer: O Lord, we are weak, and You are strong. Therefore, for Jesus' sake, abide with and protect Holy Cross—every member, teacher, student and church worker—from any harm caused by Hurricane Ian. Bless their outstanding work to extend Your kingdom so that Your salvation reaches the ends of the earth. In Jesus' name, we pray. Amen.