Many people think of preschool as a fun place for kids to learn and grow as they play throughout the day. However, the changing pressures of schools have placed tremendous importance on children learning in preschool how to be prepared for the grade school environment.
Young children are being expected to sit still, pay attention and participate in structured activities more than they ever have in the past, which can be tough for many youngsters! Many preschools often point to unruly behavior as a discipline problem.
Studies now suggest that these behaviors could be triggered by environmental problems, such as bright lights, loud sounds and certain textures. Loving Arms Christian Preschool, a dual-accredited ministry of Christ The King Lutheran Church, Largo, Fla., doesn't look at children as discipline problems. Instead, they find ways to support the families and accommodate the children so they can find success in the school setting.
Around Largo, the school is seen as the reason many children are now flourishing students, rather than expelled students with behavior issues. Loving Arms is often called "the miracle school." In fact, one mother said, "You guys loved my child when nobody else would–and now everybody loves them."
The great need
Becoming a haven for children with sensory needs in the Largo area was never a premeditated plan. It happened somewhat serendipitously.
Jessica Miller, director of Loving Arms preschool, originally took an AV position at Christ while starting in college. She eventually started working in the church's preschool and found she really enjoyed it. In the course of a single summer, she realized she felt called to the ministry, changed her degree to early childhood education and has now been with Loving Arms for 10 years.
At the preschool, she spent most of her time working with the children who needed extra support. Over time, she began recognizing the prevalence of sensory needs in the students they served. Seven years ago the school was having a lot of behavior issues and frustrations were high among the staff.
"We had to ask some kids to leave," Miller said. And that was really hard. "If I couldn't work with these kids I don't know why I would teach."
In some ways, Miller can relate to these students. Growing up she moved around a lot and, as an introvert, remained detached. She learned that being in a new place every couple years was not so bad. She realized she could engage with people and discover different personalities, generations and backgrounds. In fact, she developed an empathy for differences in people and cultivated the ability to understand where they were coming from.
"My life has helped me to have been prepared for connecting with these children and their families," Miller said.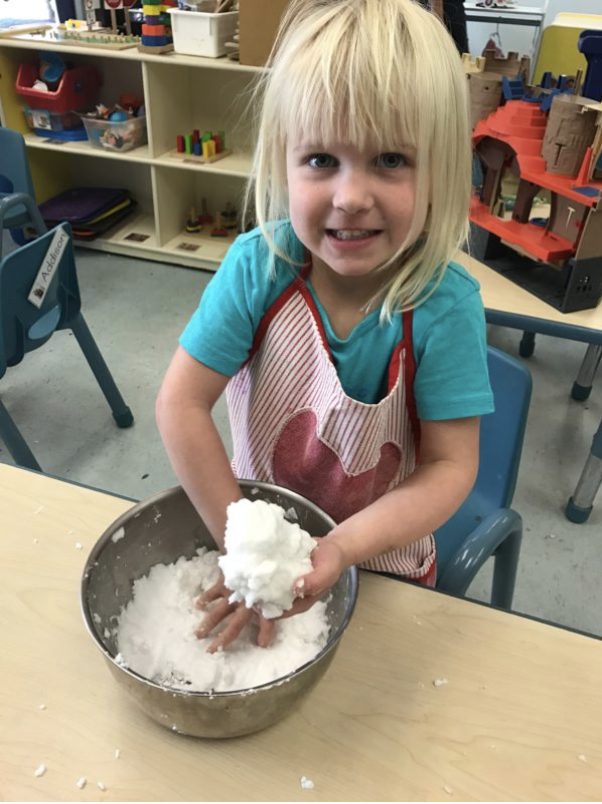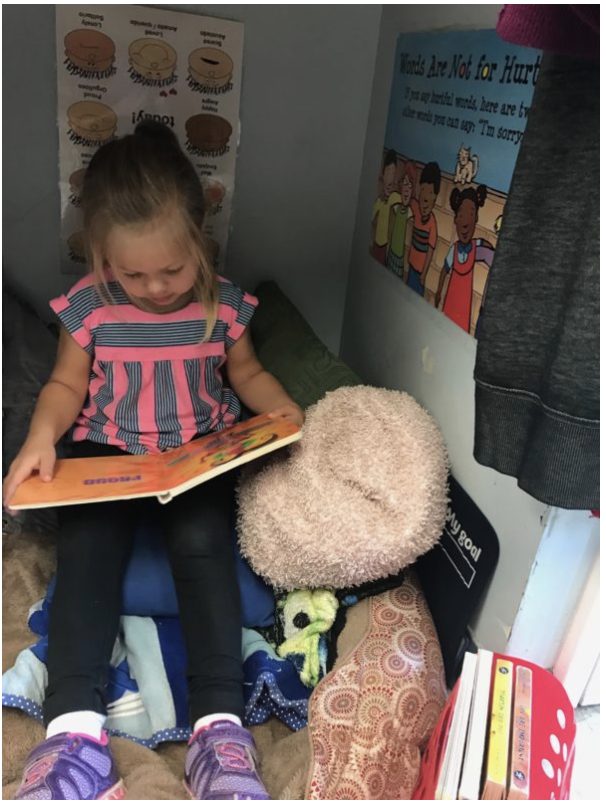 Sensory needs explained
But what does it mean to have sensory needs? It usually starts with students who struggle in the typical class setting. Miller says while this is not a formal diagnosis, it's apparent when they start to work with children. As they provide that sensory support, the change is dramatic.
"It's about settling into their own bodies," Miller said, "struggling to figure out how it operates, developing the ability to control it. They haven't had the exposure before."
Miller thinks children are not learning to interact with the world because of our reliance on technology, particularly our screens.
"Back in the day, we were talking to each other, that's what we saw our parents doing, but when we look to our parents today what do we see? These days they are looking at their phones. Children aren't observing a constant stream of conversation amongst adults." Children, Miller said, aren't getting the physical interaction they need.
"Growing up we would play in the cul de sac, and you would play outside in the dirt, or be inside interacting with things like blocks." These days all the screens "become a disconnect from their hands and families are so busy driving around to different functions. It's as if children are not learning to interact with the world. So we are having to teach them those things."
Sensory items and activities explained
When staff at Loving Arms encounter a student who seems to be struggling, they start by asking, "Why do you like to throw toys? What need does being physical fill for you?" They want to know what skill they might be missing so they can develop an effective plan to support them.
There are a number of items that provide sensory support like weighted animals and blankets. But at $40 to $60 a piece, the items can be expensive, which has led to some creativity at Loving Arms. "We have taken old stuffed animals," Miller said, "emptied them and filled them with beans."
In addition, the church's sewing group created several blankets for $12. These blankets can calm a child when she is troubled and encourage her body to rest, which allows her to engage in the classroom activities better.
Often you can help an overactive child to settle down by encouraging them to wear a backpack with a little bit of weight in it, or by pulling a wagon with some heavy items in it. This is what is called "heavy work."
Other activities involve reaching across the midline such as driving a toy car in figure eights or reaching over to pull strips of masking tape off the wall. Rubbing surgical brushes along their arms helps students coordinate the ability to focus as well.
An answered prayer
As their success grew, demand for Loving Arms' care grew as well. In 2017 Loving Arms applied for an LCEF Kaleidoscope Fund grant in the hopes to expand their sensory education which includes facility and fixture improvements and education. Loving Arms then learned they received a grant for $75,000.
This will allow the school to design a sensory room as well as integrate sensory supportive designs and materials in all the classrooms and hallways such as soothing paint colors, flexible seating and sensory experiences in each classroom. The school envisions being able to expand the connection with area specialists such as occupational therapists and strengthen their support of their students.
In the end, their sensory expansion project will allow Loving Arms and Christ the King the unique opportunity to reach out to the community with the love of Jesus by addressing a specific need in a financially sustainable way. This boldly loving ministry is a perfect example of why the Kaleidoscope Fund was created.
Congratulations Loving Arms and Christ the King!