Book review: 10 Questions to Ask Every Time You Read the Bible
How often do you read a Bible verse on a coffee mug or bumper sticker? Do you ever stop and ask questions about that verse? What does that piece of Scripture really mean? How does it relate to other passages in the Bible? What does it really mean in today's world?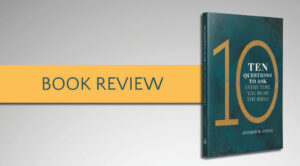 If you've asked questions like this, 10 Questions to Ask Every Time You Read The Bible is the resource for you. It doesn't tell you what the Bible says, per se, but it gives you, the reader, approachable and simple tools needed to dig deeper and develop meaningful understanding of Holy Scripture.
In Rev. Andrew R. Jones's first book, he takes readers through a series of 10 questions to consider while reading or meditating on a verse or section of the Bible. Written for new and seasoned readers of Holy Scripture, the author shares the questions that have been most fruitful and helpful in his own journey to improved Biblical fluency, while ultimately leading the reader to one question: Who are You, Lord?
Jones invites readers to explore the central characters of a verse or chapter; consider how your own perspective influences your response to Scripture; and delve into important context from the location of the story to what happened leading up to and after the verse/chapter.
A pastor of First Lutheran Church in Concord, Calif., Jones found many of these questions to be reoccurring as he led Sunday morning Bible study with his congregation. He then refined and "tested" these questions against several books and verses in the Sunday morning class.
One of the great joys Jones has experienced in ministry was in these Bible studies, specifically related to Question 10: "Where have I heard this before?"
"The first few times I asked that in Bible study, it was like crickets," Jones said. "No one had any sense of where this sounded familiar in the Scriptures. But I kept asking it, and in the last several Bible studies I've had, there are five or six answers that are just brilliant, things I hadn't thought of. It's really beautiful to see people make those connections."
He has also found people who were "observers" for the first two years of First Lutheran's Sunday morning study, have become active participants. He attributes this to asking questions that have no wrong answer. "Asking 'what are you feeling?' there's no wrong answer," Jones said. "Asking 'where have you heard this before?' Go ahead, what is your experience?"
Ten Questions is an exceptional resource to help you build confidence while reading the Bible and help you better know God. Find the book at Concordia Publishing House and Amazon.com.
Editor's note: Join us in praying for Rev. Jones as he continues using his God-given talents to write. He is currently working on his second book.