The Dawn After the Dark:
God's Big Plans for Concordia Life Plan Community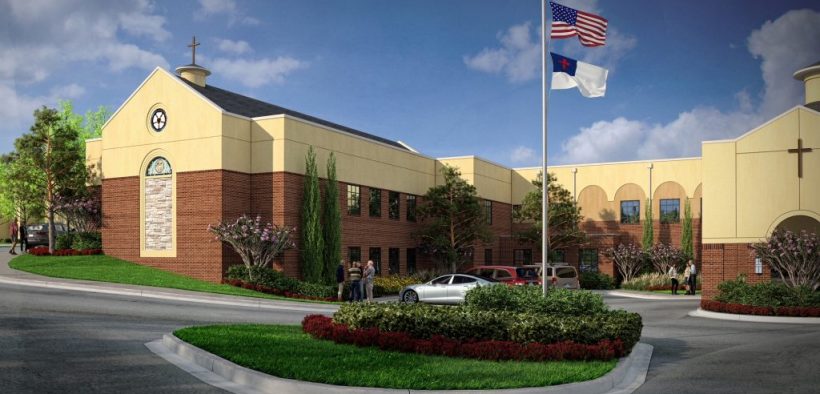 We all know that COVID-19 changed the world, but few of us know the extent of the immense challenge to the elderly community. While the younger generation adapted quickly, utilizing technology and resources, those living in care centers were isolated from their loved ones and the world as they knew it during the early months of the pandemic.
Providing for seniors within the community
While the world turned upside down, many CEOs and senior living leaders were tasked with implementing and adapting COVID-19 protocols on a daily, even hourly basis, to keep the aging population safe. During the peak of the pandemic, Paige Mills-Haag, Director of Fund Development at Concordia Life Plan Community and one of five Concordia Community Foundation Board members, experienced a significant shift in daily responsibilities, where the focus shifted from fundraising for a chapel expansion project and benevolent care program, to applying for FEMA COVID-19 public assistance, making daily resident welfare phone calls and communicating ever-changing COVID protocols to residents and families to ensure the safety of our most vulnerable population.
The pandemic brought many challenges for senior living providers across the globe, and Concordia was no exception. It was during that moment that Concordia's CEO and Board of Directors decided to turn to their friends at Lutheran Church Extension Fund (LCEF) for an extra helping hand.
"Concordia's partnership with LCEF is an invaluable one," said Danny Eischen, CEO, Concordia Life Plan Community. "Our relationship with LCEF—the organization's deep understanding of our mission, ministry and community—continues to inspire us and gives us the ability to carry out our work for the betterment of others. Over the last year, we felt God's presence again and again, specifically through this partnership."
In the midst of the worst days of COVID-19, LCEF sprang into action to provide borrower relief and a loan to Concordia, a thriving retirement community in the Oklahoma City area.
Growing together in a multitude of ways
The facility faced an obstacle as demand for spiritual space increased, and they often exceeded capacity in the current chapel. Through the determination of board members, pastors, LCEF and God's faithfulness, Concordia Community Foundation, the philanthropic arm and foundation to support the programs and services of Concordia Life Plan Community, developed a plan to raise funds to expand the chapel to accommodate a larger number of residents.
The pandemic "took a toll on social and spiritual life," says Mills-Haag. During these hardships, it was crucial that their senior residents were provided with the care they deserved and needed: physically, emotionally and spiritually. At Concordia, the focus on benevolent care is a vital part of the community's foundation and a ministry offered to residents if they should outlive their resources through no fault of their own. Concordia offers a variety of care ranging from independent living, assisted living, memory care and a skilled nursing facility for rehabilitation.
"These levels of care are all offered under the same roof," says Rev. Barrie Henke, Lutheran Church—Missouri Synod Oklahoma District president, when speaking about the full life care that is provided to the residents at Concordia.
Unfortunately, the pandemic aggravated many needs of the residents, the most prevalent being their need for a space for their spiritual care. The Kamman Chapel is not large enough to accommodate the number of residents who want to attend weekly chapel services and other events held in the chapel. Currently, the space can accommodate forty to forty-five people and Concordia serves nearly 200 residents in all levels of care. The most practical solution to the lack of available space is to expand the chapel. That is what Concordia plans to do with the support of residents and families, engaged constituents, local congregations and national Lutheran-affiliated organizations.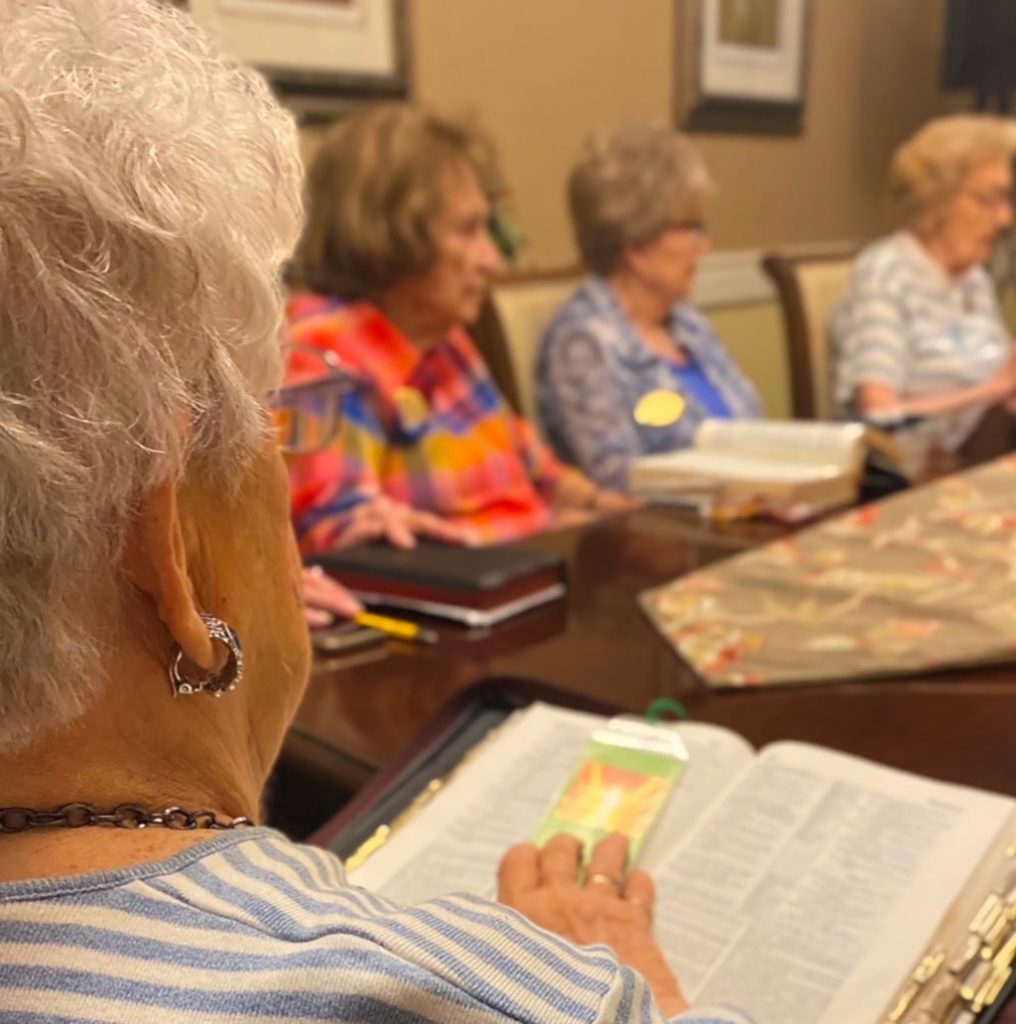 "It was LCEF's provision that both sustained us and allowed us to pursue the Kamman Chapel expansion," stated Eischen. "A project that profoundly aligns with our mission to offer residents community, belonging and a haven for faith. LCEF understands Concordia; that understanding gives us latitude to grow, despite the challenges and demands of COVID. What's more, Concordia's partnership with LCEF has allowed us to focus with hope and faith on a better tomorrow."
Finding new hope
"The Kamman Chapel expansion will be a blessing to the residents at Concordia," says Henke, a beloved and respected board member for Concordia Community Foundation. The chapel does not only serve as a place of worship, but as Henke stated, it is also a place of fellowship, community and belonging.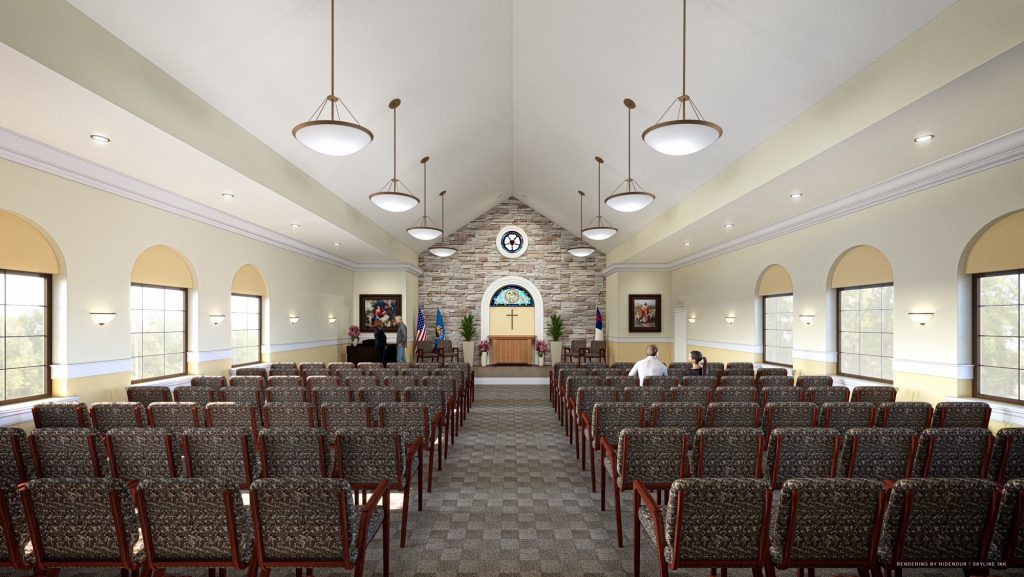 Mills-Haag said, "The Bible calls us to care for widows and orphans," which is exactly what the community is doing by building a new, larger chapel and providing benevolent care for aging residents. The chapel expansion will allow for multiple events to occur at the facility, including larger weekly worship services, and advance the ministry offerings at Concordia to include all residents and their families and guests, as well as host faith-based and community groups from the greater Oklahoma community.
"It is my hope for the future of Concordia that more families will discover and take advantage of the Christian environment, the excellent care and the safe haven offered by Concordia Life Plan Community," says Henke. The capital campaign is currently underway to raise $3.5M for a new chapel is a new beginning.
"It is the dawn after the dark," Mills-Haag said, "and God has big plans for our community."