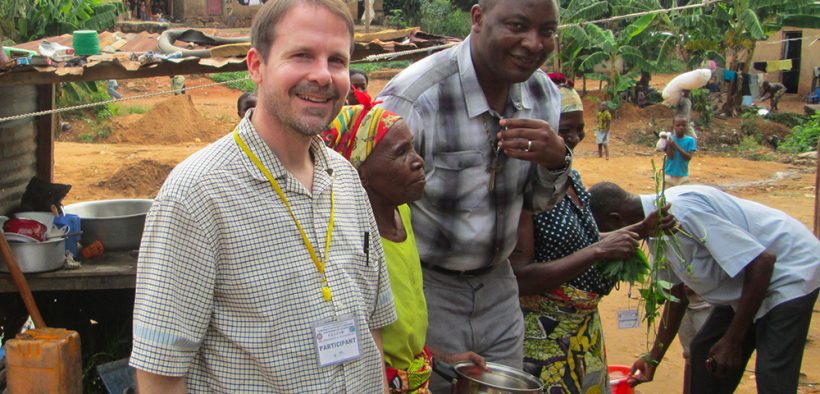 In 1894, The Lutheran Church—Missouri Synod (LCMS) sent Rev. Theodore Naether to India as its first overseas missionary. Alongside his wife and growing family, he worked tirelessly proclaiming the Gospel, visiting 124 villages in his first year of service, rising between 3 a.m. and 4 a.m. to finish all of his duties.
He used tracts he translated into the local language—40 tracts in all over five years—to open conversations. He approached every informal conversation as an opportunity to speak of Christ's atonement for sin. By 1895, Naether opened a school and taught Bible history and the catechism.
Fast forward to the late 1970s…
Rev. Dr. Thomas Feiertag is bumming on a street corner in Davao City, Philippines. Feiertag didn't let people know he was a missionary right away. This gave him a better feel for the language and culture the way it really was. It was a simple language, easier than Latin, and "I just wanted to speak it and not write and read it." He wanted to be conversational, friendly.
It would take him two years to master the language, but he built friendships quickly. Feiertag would spend a total of 6 years (1978 – 1984) in the Philippines as an LCMS long-term missionary.
This was his routine. He would go up into the mountain villages to spend time getting to know the people. His objective was to start a conversation, build a relationship, share the Gospel and eventually plant a congregation.
The work wasn't without its frustrations. To process, Feiertag would often write letters to friends in the states, pouring his heart out on the pages. Two weeks later he would get a reply and often, by then, Feiertag would have moved on from his original difficulty. His friend, however, was addressing it in his letter. "They would be going over that old issue and I would think, man, you are bringing me down," Feiertag said with a good-natured laugh.
Separation and suffering
For Rev. Dr. Ronald Mudge, who is now Rouse Associate Professor of Pre-Seminary Studies at Concordia University Wisconsin, things were a little different.  "My wife, Lisa, and I served as missionaries in French-speaking West Africa from 1997 until 2006. We lived in Ivory Coast for the first part of that time. There was a civil war that led us to move to Togo for the rest of our service as missionaries. Three of our six children were born during our time as missionaries.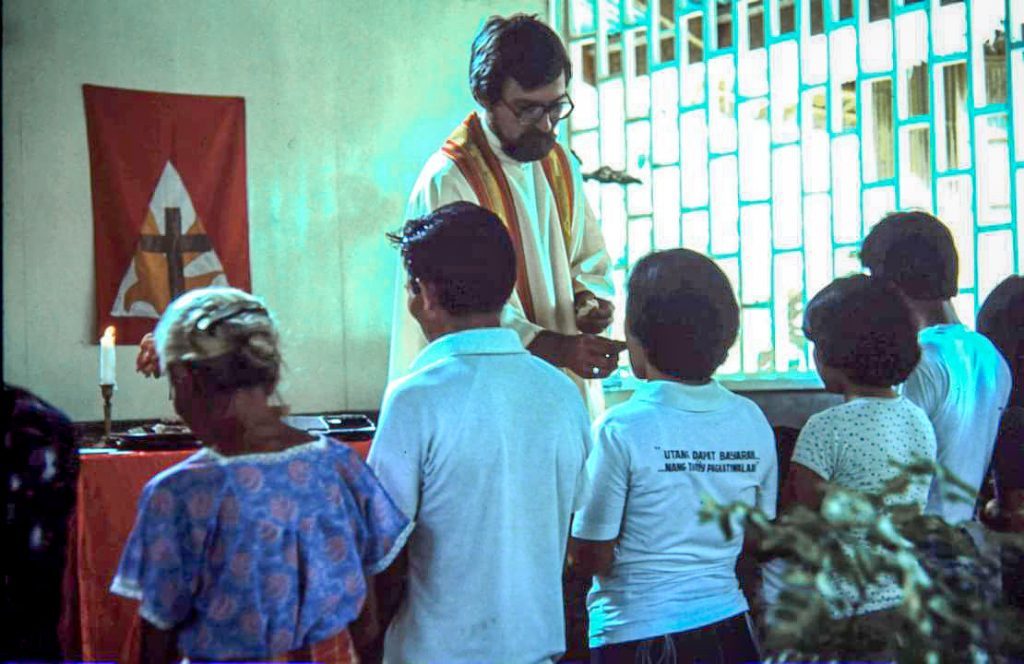 I organized and led Theological Education by Extension for local leaders. I also taught at the seminary in Togo, traveled extensively in French-speaking Africa to help with theological programs in a number of countries, and served as an area facilitator for French-speaking Africa. Lisa spent some time teaching at a refugee high school and led a number of Bible studies, programs for the health of women and children and an initiative to raise the level of nutrition in our areas."
"When I began as a missionary," Mudge said, "we suffered quite a bit because of the separation from our families in the U.S. It was all but impossible to telephone the U.S. and very expensive if you managed to succeed. At first, we would have to go to the local post office to try to call. Then we had a satellite phone. But, by the time we were finishing our service, almost everyone had a cell phone."
The internet also developed greatly while the Mudges were in the field. "Over time, technology allowed us to Skype, email and talk on the phone with family frequently," Mudge said.
This can be good, and it can also be bad.
"It can be bad," Mudge said, "because the more a long-term missionary keeps in contact with things back home, the harder it is for him/her to get through what's called culture shock. In fact, they may never adapt to their new surroundings. Also, this can make it more difficult to learn the local language."
"Culture shock," Feiertag said, "means that everything is different. Everything. This is the way it is for the rest of your life. You don't know. You don't know how to buy an apple, the way they communicate."
For missionary Natalie Howard, culture shock would creep into her life in very strange ways. Basic tasks could be exhausting. Church services in a second language could be frustrating. Responding to text messages from new friends would feel like work.
"It was very frustrating not being able to say very basic things to express myself," Howard said.
A travel revolution
"There was a time when missionaries would travel to the ends of the earth by ship and couldn't come home for weddings, funerals or to have babies," Feiertag said. "They'd come home after their seven years were up and then after a year or so head back to the mission field. There were no such things as short-term missionaries or GEOs [Globally Engaged in Outreach]."
These days, travel is so convenient and inexpensive that it's easy for a missionary to return home for a wedding, funeral or theological conference. It's easier for relatives and friends to travel to the mission field to visit missionaries. It's also possible for grandparents to become a bigger part of their missionary grandkids' lives.
A family affair
Both Mudge and Feiertag agree that working with your family can be good. Your spouse and kids can get involved in the work and become a built-in support structure. You raise children to become bicultural—familiar with both your home culture and the one they are now surrounded by.
Working with your family can also be tough. "If you're going to be a good missionary you will be tempted to either neglect your family," Feiertag said, "or you'll spend so much time with your family helping them to adjust that you'll be a bad missionary, neglecting your work." What about working as a single missionary? "It was certainly easier to get into the field without having to move a family, uproot kids, and the like," said Rev. Gary Schuschke, career missionary and pastor of Trinity Lutheran Church, an English speaking congregation in Frankfurt, Germany. "On the other side, it has already been hard being here by myself. I knew this would be the case. I also know the people in the church here are aware of this and they are already looking after me."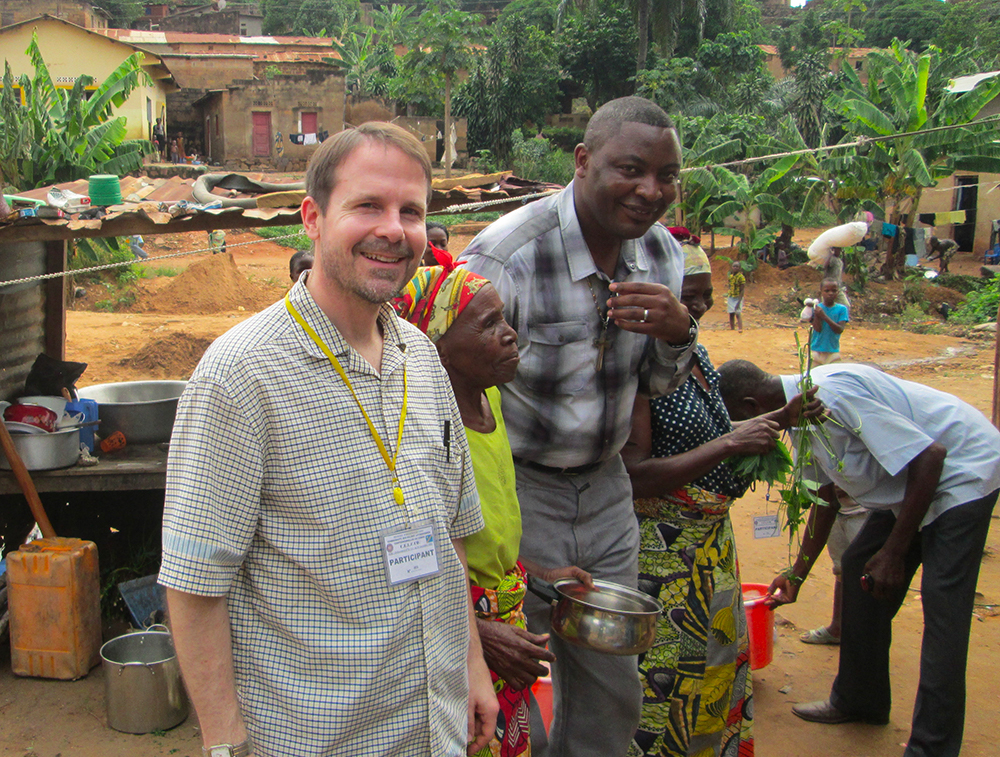 Types of Missionary Service
Career Missionary – Long-term missionaries serve at least five years.
GEO Missionary – Globally Engaged in Outreach with an initial commitment of 30 months.
Short-term Voluntary Missionary – Serve alongside missionaries and partner churches for one week to six months.
Short-term Teams – Teams who serve alongside LCMS missionaries to proclaim Christ for one to two weeks.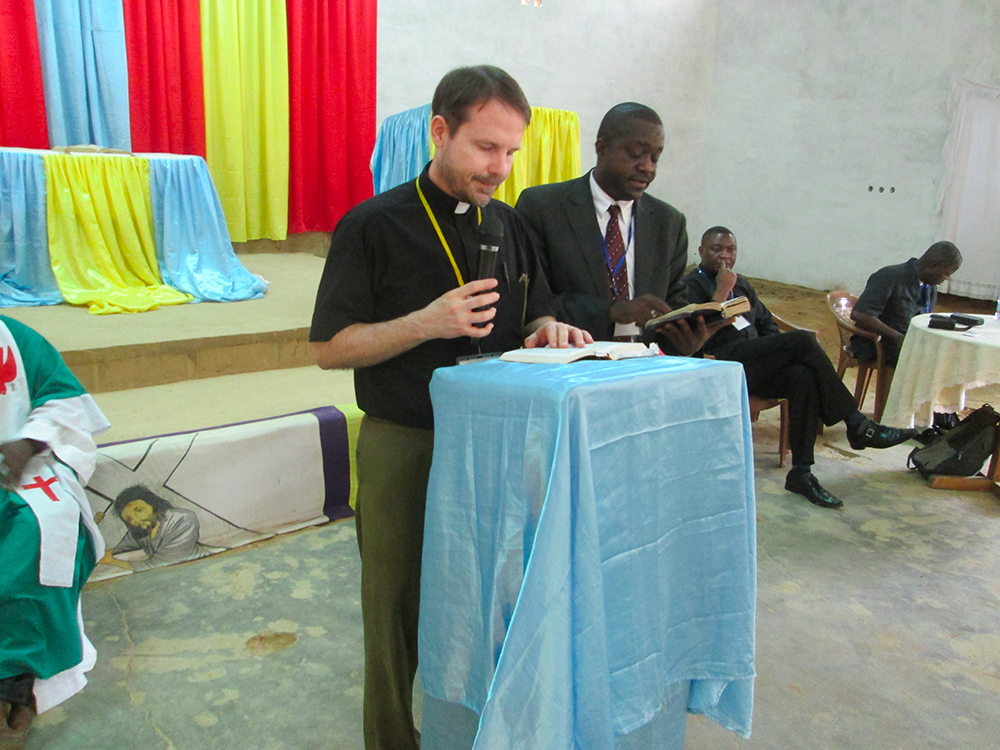 Ideal missionary traits
It's essential for a missionary to be thoroughly grounded in the grace of Jesus Christ. They must trust in the Gospel to transform human hearts by the power of the Holy Spirit.
"The missionary should also be prepared to face difficulties and, at some level, suffering, and to press on even when the work does not seem to be going well," Mudge said.
Missionaries should also be able to learn other languages and have a love for others that leads them to see the good in other cultures. Missionaries should be able to identify opportunities in other cultures to present the Gospel in a way that will connect with the locals.
"Personality is important," Feiertag said. "You need to be flexible. Need to have patience to learn the language and the culture of the people. You need to be compassionate to show you care but wise enough to know when you're being taken for a ride. Innocent as doves, wise as snakes. It's important to be a people person."
These days, you also have to raise your own support.
"Missionaries," Mudge said, "who served before us tended to be supported fully by the mission (LCMS World Mission). The next generation of missionaries have even more demands on their time for fundraising. They raise all of their support. This is extra work, but it also creates strong bonds with supporters. It seems to me that mission work functions best when supporters are well informed. They know the truth about the challenges of mission work and will support missionaries in doing the right things even if the right things are not glamorous."
Why missionaries are important
"Missionaries are important because God wants all people to be saved," Mudge said.
"Jesus is the only way to be saved, but, unfortunately, there are many people in the world today who have not heard the Gospel or who need to hear it again. In many cases, it is necessary for Christians to go from their own cultures to others, in order to share the Gospel with people of other cultures, trusting that the Holy Spirit will lead many to faith in Jesus and salvation."
"I think missionaries are important because Jesus says they are important," Feiertag said.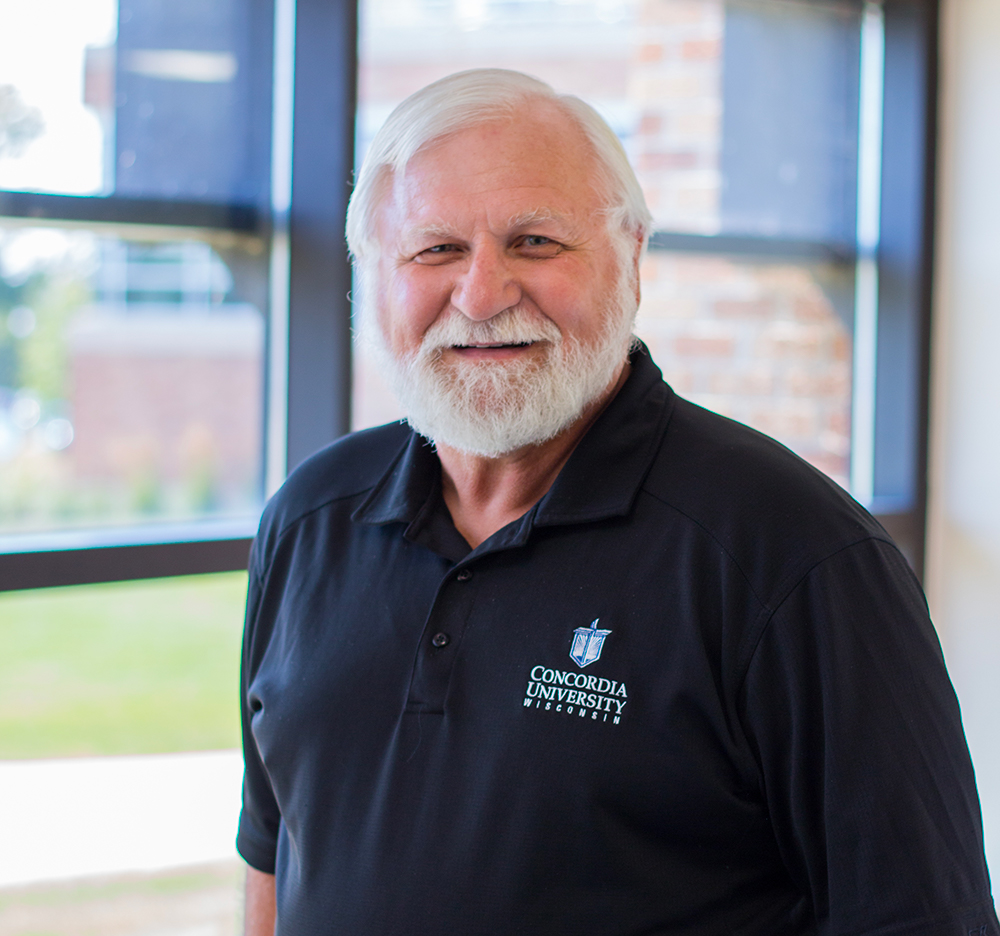 Rev. Dr. Thomas Feiertag – Retired LCMS Career Missionary, Philippines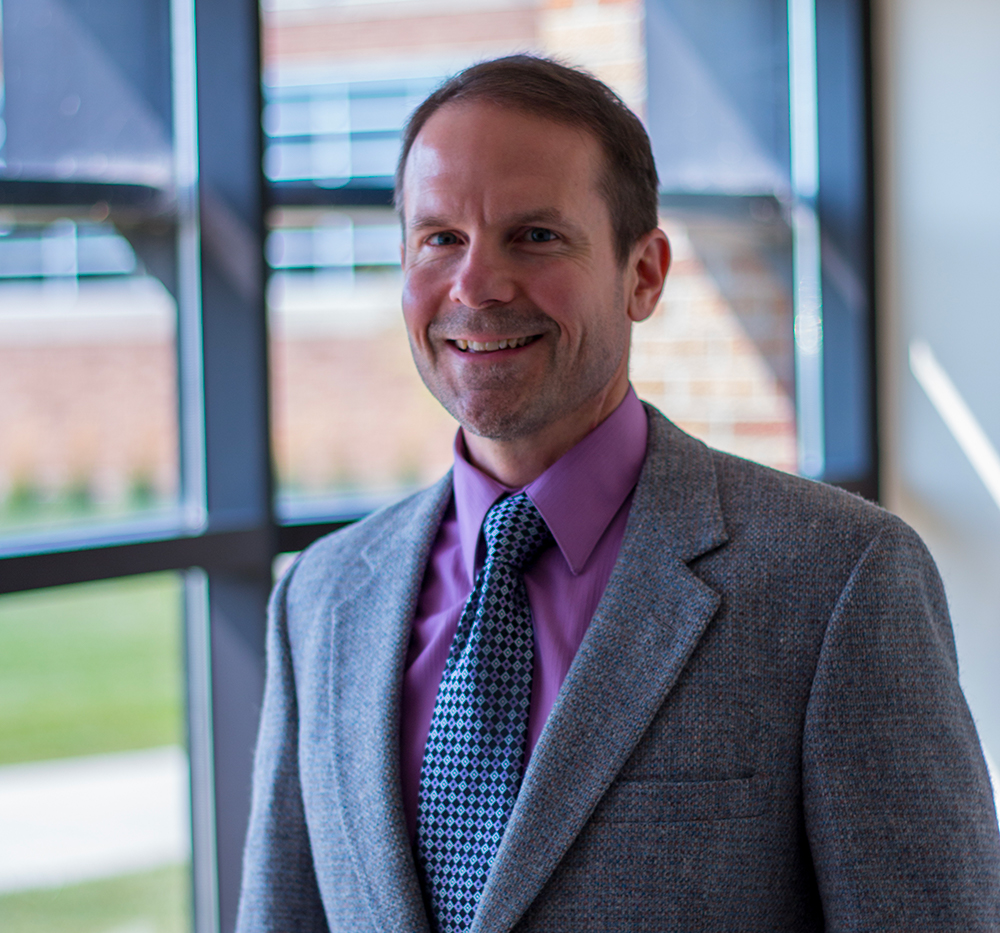 Rev. Dr. Ronald Mudge – Former LCMS Career Missionary, West Africa