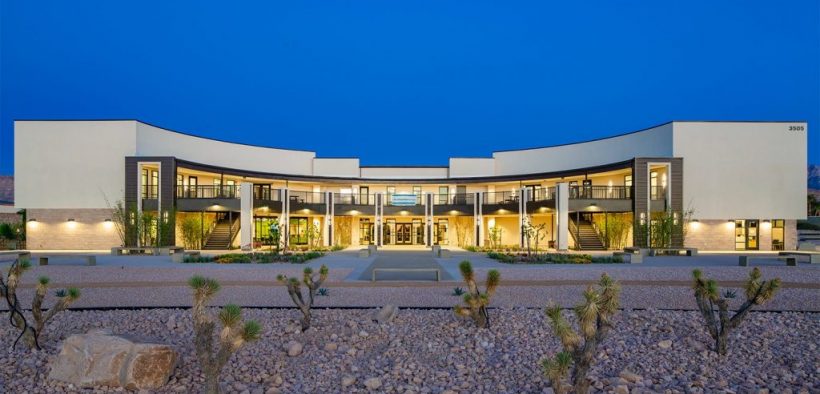 In 1952, businessman and philanthropist Howard Hughes Jr. bought 25,000 acres of unused land around Las Vegas to possibly relocate his California businesses. The land, however, sat unused for three decades. In 1988, the Howard Hughes Corporation, known as Summa, announced plans to build a master-planned community on the property. They would call this suburb of Las Vegas "Summerlin" after Hughes' paternal grandmother Jean Amelia Summerlin.
Fifteen miles from Las Vegas, Summerlin is situated at the edge of the Spring Mountains and Red Rock Canyon to the west. These days it is one of the most-affluent communities in Nevada, voted best place to live in America by several prestigious magazines. It's also home to Faith Community Lutheran Church, the largest Lutheran congregation in Las Vegas. Chartered in 1998, this steadily growing church has no plans of slowing down.
Their secret?
"They have a great relationship with their community and are a very outward-thinking congregation," said Tyler Fewins, LCEF vice president for the LCMS Pacific Southwest District.
Looking outward
In fact, Rev. Craig Michaelson's first hire when he was called to Faith in 2007 was a director of missions.
"It's easy when you are living in a planned community like Summerlin to become a country club," Michaelson said. "God calls us to be a mission outpost and we are very intentional in that we want to be a blessing to the people in this community and be a people that are not just looking inside but looking outwards as well."
That hire was Linda Kurtz, Faith's director of missions.
"The thing I love about missions is that everybody has a place," Kurtz said, who has had the position for 10 years. "Everybody can be used. You don't have to go across the world to be in missions. We have people making dresses, writing letters, praying and giving."
Growing campuses
When Michaelson began 12 years ago at Faith, their preschool, K-5 academy and church shared the same campus. As God blessed their ministry, it became evident that they couldn't grow without expanding to additional campuses.
"The Lord blessed us with the opportunity to go from one campus to two then to three campuses so that each area of our ministry could grow," Michaelson said. He's quick to point out that Faith has three campuses but one ministry with one mission.
"The missions ministry has done well to unite all three campuses," said Kurtz.
Locally, they partner with ministries to address addiction, abuse, human trafficking and unplanned pregnancies.
Nationally, they support the military and partner with disaster relief ministries.
Internationally, they support members from their church that serve in Latin America, and have a Non Government Organization in Liberia, which consists of an orphanage, Lutheran school, church, farm and women's micro-loan ministry.
And as the schools, congregation and ministries started to grow, they continued to run out of space. From day one, Faith Community looked to Lutheran Church Extension Fund (LCEF) for financial support, and LCEF was more than happy to support them in their work at each stage.
Being a growth partner
"Since our first campus was built, LCEF has been our partner in growth," said Michaelson. "And each new campus came about through loans from LCEF. To be honest, without LCEF we would not have been able to do what we have done in ministry."
"Our preschool was able to double in size to 240 children," Michaelson said. "Our academy was able to expand to three classes per grade to 430 students, and our church is now free to expand and offer ministry on its own campus seven days a week."
The latest addition, finished in the summer of 2019, is phase one of their new church campus, which includes a multipurpose spiritual life center, church office complex, children's ministry center, youth ministry center and adult ministry areas.
"With the completion of this phase of the new church campus," Fewins said, "Faith is now a three-campus ministry. Within a mile of each site, the congregation has a preschool campus; academy campus; and now their church campus."
The newest campus
The church campus is something to behold. It's a two-story, semi-circle building surrounded by bamboo and Joshua trees. The sanctuary can seat 500 people, and when the adjacent meeting rooms are all open, that number jumps to 700. This is phase one. Phase two will enclose the site as a full circle. That part of the project will involve LCEF as well.
"We had a wonderful experience working with LCEF on our church loan," Michaelson said. "LCEF made the process simple and walked with us each step of the way. We are especially grateful for the personal support and guidance we received from loan specialist Donna Sullivan."
Pray with us: Dear Lord, bless those in every land who baptize and teach in Your name. Strengthen Rev. Craig Michaelson, Linda Kurtz, the Faith Community congregation and the Summerlin community. Open doors for the Gospel and empower, by Your Holy Spirit, those who hear it to believe it and be saved. Amen.