Church Workers: 8 Reasons This Is an Ideal Investment for You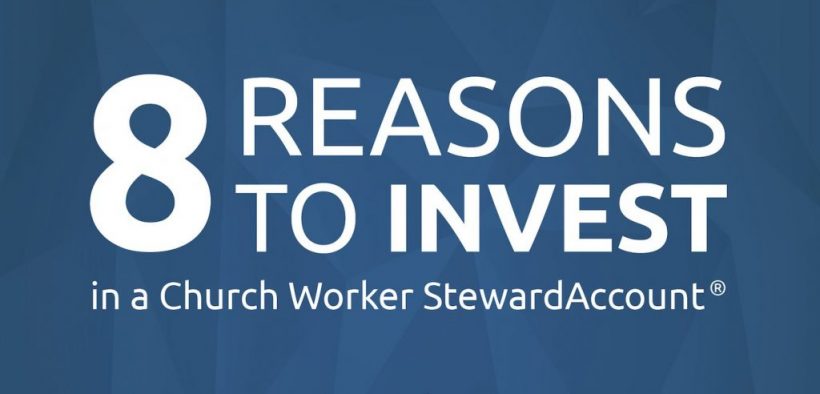 Depending on where you live, being a Lutheran is a rarity. And even rarer? Living the life of a Lutheran church worker. It's a unique vocation, and those serving in the Office of the Holy Ministry or in the roles of musician, deaconess, teacher, director of Christian education and many others have circumstances that are hard to understand if you aren't living and breathing it day after day.
Take buying a house, for example. Does the average lender understand the ins and outs of a housing allowance? When a teacher accepts a call to serve in a Lutheran school across the country, will the lender know how to interpret the teacher's call documents? Will they take into consideration the great sacrifice that goes into serving in these capacities?
Church workers in the Lutheran Church—Missouri Synod (LCMS) are well-taken care of because they are hemmed in by our Lord and by others who are looking out for the best interests of the church's faithful servants. For decades, organizations like Lutheran Church Extension Fund (LCEF) have taken to heart the daily needs of LCMS rostered and lay church workers that often go unaddressed or even unnoticed.
The latest opportunity developed by LCEF has those needs in mind once again. The Church Worker StewardAccount® gives LCMS rostered and lay church workers a chance to make the most of their First Article gifts – the daily bread given to them by God to provide for family and neighbor – in a way that serves their needs best.
The Church Worker StewardAccount helps church workers become more financially stable and healthy, allowing them to:
Budget for the unexpected
For most Americans, just one major unexpected crisis can financially devastate a family. With a competitive 1.5% interest rate, LCMS rostered and lay church workers can make their investment grow quicker and larger, so when the unexpected happens, they're ready for it.
Beef up their retirement
When it comes to retirement, every little bit counts. Having a strong return on a retirement investment or even a supplement to a retirement account frees up the church's workers to focus on the here and now, on serving those right in front of them without worrying about tomorrow.
Prepare for big life events like a wedding
Even though the vocation of a church worker is sacred, a worker's other callings like that of father, mother, wife and husband are even more important. Serving family and having the ability to be generous in times of joy or sorrow – like a wedding or even a funeral – are made easier when you have money set aside for just that purpose.
Establish a three-to-six month living expense fund
While tomorrow is never guaranteed, God has also given His people the wisdom to make good choices today that impact our future. Putting a bit of income away each week or month for an emergency fund is not only a wise choice but can make all the difference for a church worker who knows that each day is a gift.
Set aside cash for major purchases (car, travel)
Part of being a good steward involves trying to pay cash rather than using credit as often as possible. While it doesn't always work out that way in a fallen world, having accessible funds with a higher-than-average return can help make those major purchases more manageable, even without credit.
Start a habit of investing
Church workers are tasked with developing and teaching all sorts of habits: prayer, being in God's Word, tithing, forgiving, exercising and so much more. A habit of investing is likewise a healthy one that can pave the way for a future gift to the church or can simply maximize what your hard-earned money can do, positioning you for generosity later on.
Set aside money to explore new opportunities or passions
While serving the church is a big part of a church worker's life, it's okay and even ideal for the worker to also have other passions and interests to explore in their leisure time. When an opportunity arises, having money set aside in a Church Worker StewardAccount can allow participation in the things that bring them rest and refreshment, without having to worry or feel guilty about finances.
Support LCMS church workers and ministries
Here's one more reason to consider the Church Worker StewardAccount as just right for LCMS church workers like you: your investment with LCEF allows the church to provide funds and solutions to help start, support and sustain LCMS church workers and ministries in innumerable ways—today, tomorrow and far into the future.
And just like a Lutheran church worker, that's not something you see every day.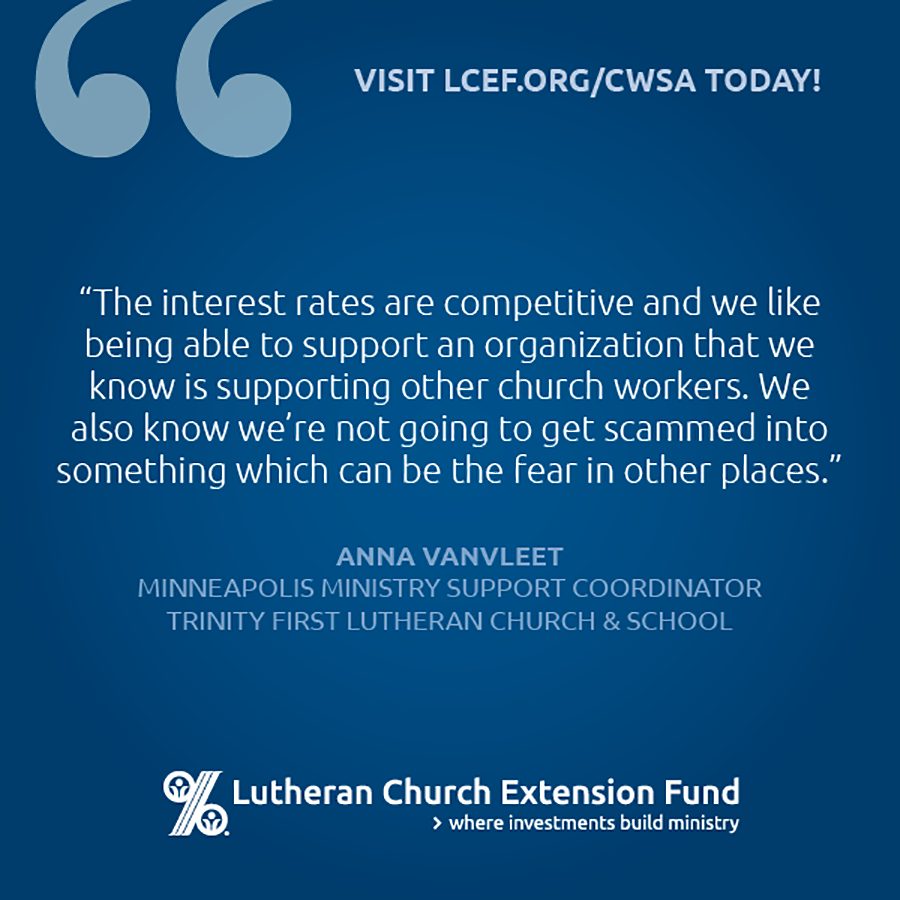 LCEF is a nonprofit religious organization; therefore, LCEF investments are not FDIC-insured bank deposit accounts. This is not an offer to sell investments, nor a solicitation to buy. LCEF will offer and sell its securities only in states where authorized. The offer is made solely by LCEF's Offering Circular. Investors should carefully read the Offering Circular, which more fully describes associated risks. StewardAccount products are not available to investors in South Carolina. StewardAccount access features are offered through UMB Bank n.a. Rates as of September 2021. Balance restrictions apply. Rates subject to change. Visit lcef.org for details.